Fashion Olympics, Our Gold Medal Accessory
2014-01-28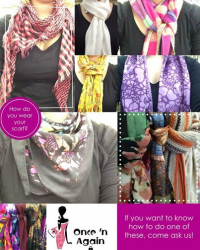 Gold Medal Accessory
By: Stephanie Edens
First of all, have seen the USA uniforms for the Olympic opening ceremony?! If not, you really should check them out! They have been the source of much debate. Love them or hate them, they are certainly All-American. And I just love that Ralph Lauren, one of our favorite brands, designed them!
The way the weather has been, it seems like an Olympic event just getting your car out of the driveway or your shopping bags back into the house. But we have got the perfect accessory to help warm you up. Here at Once n' Again we see many items come and go… and sometimes come again (this time on the customer instead of in their hands!) We love resale and recycling. And we definitely love helping our customers fight this winter chill.
While the focus here can sometimes be on the clothing, our accessories are just as much of a hit! And all this "best of the best" hype (Did you see those Grammy performances?!) has us eager to dish out just one more "gold-medal" award.
Our Gold medal accessory: The scarf!
Scarves come in every shape, size, and color. No, seriously, there are huge scarves that unfold and look like a gorgeous printed rug, or there are scarves so tiny you can wear them as headbands. Any print, any color, any pattern you can imagine: you can find a scarf to match. This is absolutely golden for enhancing your winter wardrobe.
Scarves are inexpensive. (And even more inexpensive when you buy resale!) What frugal fashionista doesn't love getting more for less? With scarves being sold nearly everywhere for reasonable prices, this means you can stock up. You find a scarf you like for a great deal, why not buy a few fundamental colors that you can mix and match?
And what we are loving most about scarves right now: their versatility! This trendy accessory doubles as an extra layer to help keep you warm. Throw it on, wrap it around a couple times, and you are ready to rock any winter outfit.
So why not add a pop of color to brighten up these winter blues? A scarf is a fashionable way to stay warm while looking great!

Subscribe to the blog