Fashion Olympics, Best Boot
2014-01-27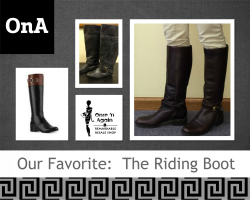 The Games Continue: Best Boot!
By: Stephanie Edens
Hello Consignors, Customers, and Friends
We're back with another gold-medal winner! This winner, however, has a much tougher job than our Purse of the Year. Boots are definitely made for walking. Through rain and snow, on sidewalks while you window shop, on the tiled floors of your favorite department store. Wherever we go, they do more than just follow. They are there every step of the way. Our boots endure quite a bit; they help keep our toes warm and dry, all the while helping us look fabulous.
Riding Boots are our gold-medal winner for three reasons:
1. Perfect for almost any season: Riding boots are the perfect shoe Fall through Spring. Here in the Midwest we know, once the temperature drops in October it can sometimes be April before it is warm enough for sandals, or any shoe that doesn't allow socks.
2. Finishing touch: One of the absolute best things about Riding boots is that they are the perfect finishing touch to any outfit. These boots fit right in to the definition of business casual. They add a touch of dressiness to every outfit, or help make a professional look more fun.
3. On point: Yes, a black or brown riding boot enhances every woman's wardrobe. But they are also a trendy statement piece for whatever it is you want to wear. These boots have an element of timelessness. Riding boots are not going out of style any time soon and therefore are a great investment on top of being a bonus to your closet.
Some tips when looking for your perfect pair of riding boots:
Pick a pair that goes best with your wardrobe. Riding boots are great because they mostly come in black and brown. Even still, unless you plan on buying more than one pair (which isn't the worst idea) then invest in whatever color complements what you already have.
Ÿ For women with shorter legs: look for a pair of riding boots that come to mid-calf or slightly above. Doing so will help make your legs look longer.
**A two-toned pair of boots, black with brown on top, can be best for that elongated look!
Do you have a favorite pair of boots?

Subscribe to the blog