Spring Trends, Go Bold!
2014-02-07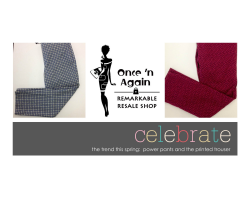 By: Stephanie Edens, Fashion Blogger at Once 'n Again
I was flipping through the latest issue of InStyle the other day and fell in love with a current trend for Spring: the printed trouser.
I adore the cut of a nice pair of trousers. The streamlined, slim fit throughout the leg that comes to a perfect stop above the ankle is perfect for showcasing any adorable pair of shoes you choose to wear. Plus, they create a sophisticated silhouette that works great in and out of the office.
Now, this classic cut has a fresh and bold look!
Printed trousers were pictured throughout the issue. Capturing my attention with their bright colors and (bold) prints, I began to ask myself if this was a trend I could pull-off. So I took a closer look. What I saw was that most printed trousers were paired with low-key tops and accessories. The pants became the focal point of the outfit. However, for those who are truly daring, a top with a different print in similar hues looks fantastic. Pair it with a solid color jacket or blazer and you've got an outfit that really makes a statement!
This is a trend I will be getting on board with as soon as I find a pair of printed trousers to match my wardrobe and personality!
In their online post 10 Fashion-y Things to try this February, InStyle lists "Power Pants" as number 9. Trousers with a bright print are definitely power pants. Do you dare to go bold this Spring? I certainly do!
What Spring trends are you most looking forward to?
Let us know in the comments below!

Subscribe to the blog