Fatten Your Wallet by Slimming Your Closet!
2014-02-13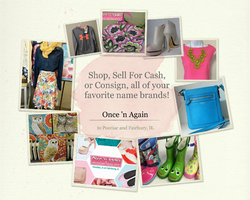 By: Stephanie Edens
Is your closet bursting at the seams? Are you on the struggle bus each morning, trying to put an outfit together for work or school? Do you just have too much stuff?
Well, I've got the solution for you!
The answer to all your closet woes is to do a major purge then head to your local consignment/resale shop. We all tend to hold on to items long after we use them. But a packed closet is a deceptive one. We assume the more we have the better our wardrobe will be, when instead it's just a mess to dig through. And when you can fatten your wallet by slimming your closet, purging the clutter becomes that much easier!
Some great questions to ask while cleaning your closet:
ŸDid I wear this recently?
Will I wear this again?
Would I buy this if I went shopping today?
Will it be in style next year?
If you said no to one or more of those questions, fold it up, put it in a bag, and then come visit us here at Once 'n Again!
Most people don't know the difference between thrift, resale, and consignment stores and tend to lump them into the same category. But did you know your local resale and consignment shop can help line your slim wallet with cash? While thrift stores take all items on donation, resale and consignment shops pay you for what you bring. Here is how it works:
Resale shops pay cash for the gently used items customers bring into the store. They look through the items right then, so you have instant gratification for your closet cleanout!
Consignment shops work a bit differently. These are stores that resell items for you. Once the item has sold you get a guaranteed split of the proceeds, and while it isn't always as instantaneous as the cash now perk of resale, with a little time it will be much more profitable for you!
Now that you know you can make money for your gently used clothes, let me tell you should choose us!
Options- Once 'n Again does both Cash Now and Consignment. So you can choose which best fits your needs.
ŸHassle Free- Stop by either location at any time (Mon-Sat 10-7) - No appointments necessary!
ŸOne Stop Shop- all genders, sizes, and ages in one location! Women's, Men's, Teens, and Kids clothing and accessories all under one roof.
We have a great turnover- most of our items sell within the first two weeks on the floor. On consignment you get a guaranteed 40% split (50% if sells for more than $100), and when an item sells, the money goes straight to your account!
Check online or stop in to check your account and pick up your cash!
What are you waiting for? Purge that closet clutter and let Once 'n Again help you start making money today!

Subscribe to the blog