Four fashion rules you SHOULD break this Spring!
2014-02-21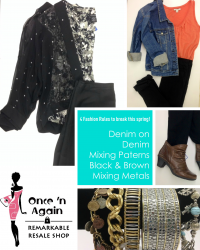 Rules are meant to be broken: Four fashion rules you SHOULD break this Spring!
By: Stephanie Edens
Finally, some slightly warmer weather. With the sun shining, today feels like a day when almost anything is possible! And since I'm in a store full of clothing, which you should stop by on this beautiful day, my adventurous attitude has me thinking about fashion rules and whether or not they are even relevant to today's modern woman.
Like I said, rules are meant to be broken. In fact, breaking the classic fashion rules can be quite trendy and fun.
Here are four classic fashion "faux pas" that actually look quite on point for this Spring.
Denim on Denim: sometimes referred to as the Canadian tuxedo. We all remember Britney and Justin's horrible denim on denim (on denim) fiasco of 2001. That is a great example of how NOT to pair your denim pieces.
But, if done correctly, pairing denim becomes an effortless, trendy style. The key is in differing denims. Pair a lighter denim jacket with dark skinny jeans. Add a brightly colored scarf or tee shirt and you've got a perfect spring outfit.
ŸMixing Patterns: This trend can be a little difficult to pull off, but that is no reason to avoid it. Here's how you can pull it off: mix patterns with similar colors. If you're going to pair polka dots and stripes, make sure the colors complement each other. Another great tip is to pair a larger print with a smaller print. This keeps the patterns from clashing and keeps your outfit from looking too loud. This is one I need to try out soon!
ŸBlack and Brown: Now here is a classic rule that almost seems taboo to break. But let's think for a second. Brown and black are both neutrals, and the rule for neutrals is that they go with anything, right? So why can't they go together? I'll tell you the answer: They can! There isn't any secret advice to this one, it's something you just have to try. But if you're going to pair blacks and browns, just remember to add some accessories of different colors or textures to finish off the look.
ŸMixing metals: Now that many designers are putting gold and silver tones together in accessories this rule is almost obsolete. But even if you don't have two-toned jewelry it is a look you can pull off. A great tip is to keep the tones muted, flashy gold and silver are more likely to clash.
The key to breaking these rules with style is all in how the outfit is assembled. Are you adventurous enough to try these out?
What other fashion rules are irrelevant? Let us know in the comments below!

Subscribe to the blog