Now Trending for Spring: Coral and Mint
2014-02-26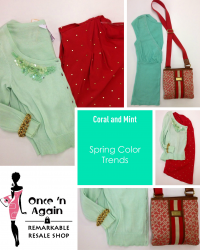 By: Stephanie Edens
All this talk of Spring, but where is it? Hopefully (fingers and toes crossed), it is right around the corner. March begins this weekend and with the start of a new month, we renew our hopes that warm weather will be upon us.
At Once 'n Again we are ready for spring. Our racks are filling up with bright colors and floral prints. Skirts and capris are competing with jeans and pants for space and we are loving it. Two colors we have that are perfect for Spring 2014 are Coral and Mint.
Mint is a classic spring color. The light pastel looks great in sheer blouses and tops. Mint is wonderful for Easter dresses and trendy even through the hot summer months. We love mint because it is a cool play on classic pastel green- the color you're used to, only better!
Coral isn't as much of a classic. Instead of a light spring pastel, coral is great because it is a saturated pop of color that spices up any Spring look. Coral goes great with either gold or silver jewelry, though the gold tones enhance the mixed orange/pink hues of the color. And since gold jewelry is making such a comeback, pairing coral and gold looks trendy and chic.
But do you want to know the best thing about these two colors?
They look absolutely lovely together!
Whether it's a sheer mint blouse paired with pops of coral accessories, or a coral top covered over by a mint cardigan, the combination of these two looks good on most skin tones (which is good, since we all look a little pale after such a long, harsh winter)!
Stop by Once 'n Again to browse our selection of mint and coral, as well as our other Spring items, to get ready for when the weather finally warms up! Like I said, Spring is right around the corner! And you should be ready for it with light fabrics and trendy colors!

Subscribe to the blog