The Envelope Please....
2014-03-03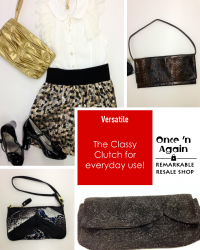 By: Stephanie Edens
Award season is fast upon us! I don't know about you, but I like to see all of the nominees before the award show. I love to see what all of the celebrities are wearing and decide what is most flattering. Despite the fact that it has nothing to do with me, it is fun.
But, one way we can all be just like our celebrity counterparts is by adding a little class to our everyday attire. How can we do this? By swapping out our bursting-at-the-seams purses for a slim and elegant "envelope" clutch!
Typically we think of a clutch as an accessory for special occasions: celebrities in their dazzling outfits on the red carpet or, for the typical woman, on date night. And while they are absolutely great for those types of events, we tend to dismiss them for everyday use.
But, clutches are much more versatile than you might expect!
Some clutches are small enough to fit right into your handbag. You can use it as a wallet inside your purse and, when you don't need all the extra storage, you can just pull it out and go. And since most come with a small handle that instantly converts it into a wristlet, it is actually much more convenient than a purse or bag.
Swapping out your purse for a slim clutch will add that extra bit of class to your outfit.
While the celebrities hit the red-carpet with their clutches in tow, you can hit the mall, the grocery store, or your favorite local consignment shop without all of that extra baggage. . It might not be the red carpet for us, but we can look just as chic by switching out a bulky bag for a classy clutch!
We have a great selection of clutches and wristlets at Once 'n Again. Why not stop by and pick one up today?

Subscribe to the blog