For the Love of Coach!
2014-03-13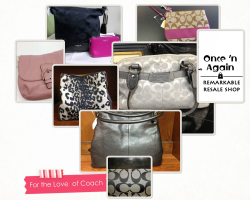 By: Stephanie Edens
Another grey and blustery day. I know we are all more than ready for Spring to start. Despite the dreary weather yesterday, we had quite a few of our friends stop by the store and the brand of the day was Coach. We couldn't keep them on the shelves-though we are definitely not complaining about it!
After saying farewell to a gorgeous silver and taupe Coach handbag I'd been drooling over since it came into the store, I looked at our supply of handbags and pondered the reasons that we adore Coach at Once 'n Again.. 2 reasons are: the high quality of the bags as well as the variety in their styles and designs. But what about the Brand itself?
I'm the researchin' type so I headed on over to Coach's website. Of course I found more handbags to dream about. But I found something else that really impressed me and made me love Coach even more. Coach recently released its very first Sustainability Report for its customers, consumers, employees and any other interested party. Now, don't worry, you don't' need to read the 50-some page report in order to get why it's so great; I already did that for you!
Part of Once 'n Again's mission is to be both environmentally and socially responsible. One of our biggest ways of doing this is by offering our customers and outlet to buy, sell, and trade recycled fashion. When I began reading the Sustainability Report I quickly took note of the fact that 2 out of the 4 pillars of Coach's report aligned with our own mission statement!
Pillars 3 and 4 were bulleted as "Environmental Conservation" and "Community Empowerment". The Environmental Conservation section was pretty interesting. Highlighted in this section were the various ways Coach, as an expanding international brand, is streamlining environmental efficiency within their stores and factories. Decreasing Carbon Dioxide emissions and increasing recycling of waste materials were key features in this part of the report.
But it was the Community Empowerment section that blew me out of the water. Just to list a few of the ways Coach gives back to the community, the company has foundations to help women become empowered, improve education opportunities for the underserved, and give back to the local communities where Coach stores are located.
Their Young Women's Leadership Network (YWLN), supports programs that help young women overcome poverty and pursue high education. And their Adopt-A-Classroom program partners Coach stores with local classrooms to provide needed books and supplies. Coach also has international relief efforts to support individuals affected by natural disasters.
And there are many other initiatives and programs outlined in the report. We loved Coach for the high quality bags and accessories. And now we love Coach even more….
As a conscientious shopper, it is always a joy when you can love the brand behind the product as well as the product itself. At Once 'n Again we strive to be socially and environmentally responsible, and knowing that one of our favorite designer brands is willing to do the same feels great!

Subscribe to the blog