5 Ways to Spring Into Style
2014-03-19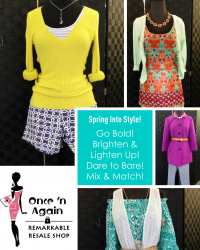 By: Stephanie Edens
Spring is finally here to stay. In addition to more sunshine and warmer temperatures, one of the best things about the season is springing into a new wardrobe! Time to pack away the heaviest of our winter wear and swap it out for the bright and bold trends of Spring. But how do you transition when the weather is still so fickle? It's easy!
Here are 5 tips when transitioning into a Spring wardrobe:
Brighten Up: Swap out the jeweled tones and dark shades for brighter colors. Soft pastels and saturated warm colors are the way to go when transitioning into a Spring wardrobe.
Lighten Up: Dress to be as breezy as the weather . Switch up chunky sweaters for three-quarter length sleeve cardigans. Pair that with a sheer blouse in your favorite Spring color, and you're ready to go! Another great way to lighten your load- exchange the heavy winter coat for a lighter, Spring jacket. Denim jackets are classic and can be paired with every Spring style. Or, for an edgier look, find a light leather jacket that hits right around the waistline.
Dare to Bare: Time to shed the long pants, ditch the thick winter leggings, and show some skin, whether it be an ankle pant, a skirt, or a dress. And for days when the weather is just a bit on the chilly side, wear some sheer tights instead of leggings. It is a great compromise- and they come in so many fun colors!
Go Bold: Try out those printed trousers you purchased after reading our blog on them! Now that the world is getting some color back, it's time for you to do the same. Transition weather is a great time to try out Bold patterns, since you can tone it down with solid colored jackets and boots, depending on the weather.
Mix and Match: One of the best things about transitional weather is that you can pull items from every season. Grab a bright summer tank, layer with a neutral Spring cardigan, and pair with riding boots or sandals depending on the weather. Another fabulous way to make a transition outfit is by pairing a chunky sweater with a bold, printed trouser and some flats. You get the idea- now get creative and make your own Spring outfits!
Once 'n Again has been accepting Spring consignments since Jan. 1st and pricing Summer items since the beginning of March. We've got plenty of great pieces, in bright colors and bold prints, to help you rejuvenate your wardrobe and spring in to this new season with style!

Subscribe to the blog