Ten Tips When Packing for Spring Vacation
2014-03-25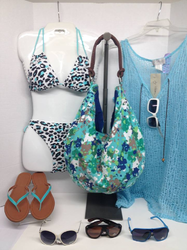 By: Stephanie Edens
SPRING BREAK! The weather is gorgeous and the kids are out of school- the perfect time to take a Spring Vacation! Planning on heading out of town in the next couple of weeks? We've got some great packing tips to help get you on your way!
Pack coordinating pieces: to avoid over packing choose interchangeable pieces. Bright tops and neutral bottoms work well so that you can mix and match.

Make a list of all toiletries and accessories ahead of time- this way, nothing gets left behind and you don't have to spend your stash of cash on something you already own!

Pack at least 1 nice outfit- you never know when you'll be in the mood for a fancier dinner, so you should be prepared just in case!

Two swimsuits- so you never have to be uncomfortable in a suit that's wet from the day before.

Cross body bag (for women)- as hands free as a fanny pack, but much trendier

Three pairs of shoes- casual sandal, dressy sandal, tennis shoes

Sundress (for women) can double as a swimsuit cover up

Athletic clothes- in case you decide to have a jog along the beach or a hiking adventure

Pack the night before- double check in the morning

Take less than you think you need- You want to leave room in your suitcase for the return trip. You may just find something you absolutely cannot live without while vacationing!

We have a lot of swimsuits and shorts for the whole family! Let us help you save even more before your Spring Vacation by shopping smart at Once 'n Again!

Subscribe to the blog