Summer Trend…Try The Romper
2014-04-02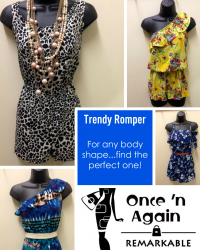 By: Stephanie Edens
Spring is here in full force. And what that really means is that Summer is only a hop, skip, and a jump away!
One item that will be a must have for Summer 2014 is the Romper. This one-piece garment will have you looking summer chic.
We have quite a few rompers in our stores, and with the turn of the season we are sure to get more! This playful one-piece intimidates some people- they think they can't pull it off. But you can wear this trend and look fabulous doing it. Here's how:
Material: Go for materials that aren't clingy. This playful one-piece is both comfortable and cute, and finding a material that doesn't hug the parts of your body you want to hide is important to looking effortlessly stylish!

Pattern: When wearing a romper, less is more. A romper is bold enough on its own that you don't want to overwhelm it with an over-the-top print. When looking for a print or a pattern, think small. This will help to make the romper the most flattering it can be. Even better: A solid color or color block romper!

Fit: This is the key to finding the perfect romper for you! As long as you have a romper that flatters your body type, you can pull off this look-easy breezy.
Pear - Curvy on bottom and smaller on top? Look for a romper with embellishments or collars will help to draw attention towards the top of your body. Or look for a color block romper that is lighter on top and darker on bottom to help balance the look.

Curvy - Rompers that gathers at the waist and are flowy everywhere else really flatter your figure. Look for rompers with longer shorts and you're all set!

Hourglass - You can really wear any kind of romper, just show off your shape by getting a romper that cinches in at your waistline. Other great ways to play up your figure is to look for rompers with v-shape necklines and well fitted shorts.

Top Heavy - Have a fuller chest? Not a problem, you can still pull off wearing a romper! Look for rompers without high necklines or frills, as you don't want to add volume where it isn't needed.

Boy - Frills and volume are perfect for this body type, look for some ruffles or added volume, and, as always, show of your womanly figure by wearing a belt around your waist!
Beat the heat in style this summer! Stop in our stores and start looking for your perfect romper.
(And, by the way, I'm wearing some great printed pants I got at the Fairbury Once 'n Again while I type this for you! Have you gone bold yet this spring? It's the perfect time to do it!)

Subscribe to the blog