Double Your Consignment Balance on Earth Day!
2014-04-11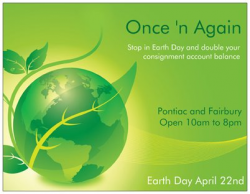 By: Traci Hassett
Recycling and celebrating the earth is a daily mission for us at Once 'n Again. So on Earth Day…we offer a way for you to double your recycling efforts. This is a good deal if you are a consignor and a shopper. If you have a balance in your consignment account, stop in on April 22nd and we will double it on a gift card that you can use in the store anytime. This offer has no cash value and the limit is $100.
It is a win for everyone…including our environment. Your recycling efforts are doubled because you are consigning the items that you no longer use…and you are buying more items that someone else no longer needs. The environment wins because you are not buying new that could end up in a landfill later.
Last week, five Once 'n Again/Frugality NFP employees loaded a semi -trailer full of clothing that Frugality was unable to sell. This is hard work (& I am over 40 J) but I help with it because it reminds me of some of the most important reasons that I do what I do. A bonus, the muscle aches keep reminding me for days. This is the stuff that no one wanted for 99 cents….18,000+ pounds of it. We load a trailer 2-3 times a year for a recycling company called Charity Shoes & Clothing. It amazes me that from our little slice of earth we produce this much excess….and encourages me to keep going because it would be much-much more if Once 'n Again didn't provide an outlet to buy and sell the excess.

Subscribe to the blog