Consignment Seasons-Cash Now, Confused About Selling Your Stuff?
2014-05-16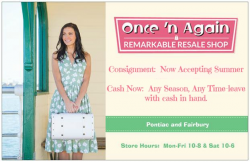 By: Traci Hassett
I know what you are thinking....."my closet is overflowing and I would like to sell some of my stuff but, consignment seems so confusing. I cannot figure out what you want and when." Your local consignment shop that sells gently used name brand fashion will tell you what season they are accepting. The season accepted often does not coincide with the weather or even the things you have decided you want to sell. This January it was as cold as -40 degrees (yes that is negative) and Once 'n Again was accepting spring consignments….brrrrr. Why do we do that?
The short answer is customer buying patterns. Your local consignment shop is in business to sell things. You can decide at the end of February that you want to sell the year old winter coat that you chose (for any number of reasons) not to wear this year. The coat is still current fashion and it is clean and in excellent condition…..but it will never sell in March. The buyers are looking forward to spring and not interested in a winter coat.
The consignment shops choose their seasons according to the items that their customer's want to buy at the time. We sell many more winter coats in October and November than we do in January and February. My theory is that the only people looking to buy winter coats in winter are the ones that have damaged or lost the one they have. Most are thinking....why buy a different coat when I won't need it for much longer. We are always looking forward to the next season when buying. This is the same reason that you will a find a swim suit…not a winter coat at the mall in February.
However, consignment is not your only option for selling your stuff at Once 'n Again. You can choose Cash Now and we will give you cash for your stuff any season, any time--you leave with cash in your hand we put it in storage and sell it at the right time. If you choose consignment, you will typically get more $$ for your stuff….but you have to wait for it to sell and bring it to us during the correct consignment season. Shop, Sell for Cash, or Consign…you have choices at Once 'n Again!

Subscribe to the blog