Crazy Christmas Sweater...Oh Yes We Do!
2014-12-01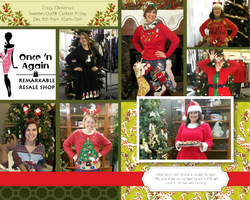 By Traci Hassett
We like to have a little fun at Christmas time. Since we are a resale store we see some really fun and really crazy Christmas Sweaters or entire outfits. They sell like hotcakes…by the time this is printed we may not have many to choose from. Even though a lot of them are out of our date range, they are in high demand….so we loosen our policies and price all kinds of fun sweaters. You've seen them from the 70's, 80's, and 90's…with the furry reindeer, the huge decorated tree with bows, a big gold sequined present, or maybe even a scary Santa…we love them all.
We love them so much…we have a contest. It started out as an employee contest but grew into an event with our customers too! So wear your crazy Christmas sweater or outfit and stop in on Friday December 5th between 10am and 7pm to pick up your coupon for 15% off. Then allow us to photograph you and tag you on Facebook to enter the contest to win a $25 Once 'n Again gift card. We have a store in Fairbury, IL and in Pontiac, IL. The lucky customer who has the most Facebook likes (for their picture from our page) on Monday December 8th at noon will win.
You'll notice that we do not call them Ugly Christmas Sweaters because it might offend the owner or a person that is serious about their Christmas Sweater. There are some folks that do not get the joke. We have used the term Christmas Party Sweaters too…we like crazy. No offense intended for anyone...
Join us for some fun!

Subscribe to the blog