Beat The Winter Blues With Retail Therapy
2015-01-13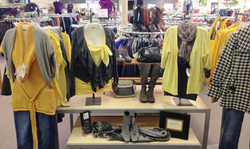 By: Stephanie Edens
Snowpocalypse of 2015 has hit. Last week we were stuck in our homes, the unbearable wind and blowing snows not worth the drive it would take to get anywhere. I don't know about you, but being cooped up for so long has definitely got me bummed and ready to get out and do something fun. Luckily, this week has started with a heat wave- above zero! Now is the time to get out and really beat those winter blues, and a trip to your favorite local consignment shop will do just the trick.
Getting a dose of retail therapy is a terrific way to shake off the winter blues. Here at Once 'n Again we have a great collection of gently used name brand clothes for the entire family. We have an assortment of sweaters and great layering pieces that will help you stay warm through any future snowmageddeon (though we hope for none!). Everyday is a sale day, with great discounts on already incredible prices. And, our inventory is constantly changing! In fact, we have recently started getting Spring consignments. Stocking up for all of those sunny days ahead will surely help us all get through the next couple of winter months.
Whether you're looking for something to keep you warm and cozy now, or something you can pack in your bag for your family's next Spring Break vacation, Once 'n Again is your one stop shop for the entire family.
And we've got a way for you to beat the blues and help others at the same time! Once 'n Again's annual food drive is still going strong throughout this week. The last day to make a donation is January 19th. With the donation of your canned goods and necessity items, you will receive a 20% off coupon to use while you shop. Not only will you help others, you'll also save big on some savvy style.
Stop in and see us in downtown Fairbury or Pontiac today!

Subscribe to the blog