Spring Trends, The Denim Shirt
2015-01-20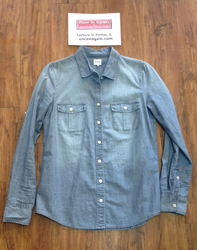 Fashion Staple: The Denim Shirt
By: Stephanie Edens
Five easy outfits built around one trendy piece.
While these past few days have definitely made us all feel that Spring truly is just on the horizon, as Midwest dwellers we know: Winter isn't over yet. Still, it's time to start thinking about a ways to transition our wardrobes from winter to spring. At Once 'n Again we've been thinking a lot about this and have come up with an key item to help take you from winter wear to spring attire: the denim shirt. It's a fashion staple you can wear any time of the year, and we've come up with five easy outfit ideas for snow or sunshine.
1- Layer it up! Layering is an easy way to look extra chic, and the denim shirt is no exception. Pair your denim top under a thin sweater for a look that will keep you cute and cozy. Fun details of this outfit: a wide neck sweater shows more of the denim and leaves room for necklaces, cuffing the sleeves gives this look a clean, finishing touch.
2- Neutral Pairing. Because your denim shirt is a key neutral item, you can use it to build a variety of outfits. With a neutral top you can go bold and wear a colored or printed pant. Or, you can use it to mix your neutrals; a denim top with black jeans is a classic and cool look for any outing.
3- Make a Statement. A fun way to dress up this simple piece is by layering on the jewels: statement necklaces look classy over a fully buttoned denim top. Or, get colorful for spring and layer this neutral base with a scarf in your favorite spring pastel or print!
4- Tuck It In. Use your denim shirt to transition into spring with this outfit. Tuck your denim top into a cute skirt. What's so great about using your denim shirt for this is that you can wear it with any color or length of skirt. Make it casual with tights and boots or sneakers; or, dress it up with accessories and heels!
5- Top It Off. As the weather gets warmer and we ditch coats, the denim shirt can be used as trendy outerwear. Paired over a dress or as the final layer of a chic layered look, the denim shirt has officially transitioned you into spring. Cinch off your outfit with a belt and you are ready to go.
Shop at Once 'n Again to find what you need to build these trendy outfits!
Click below to see some of these trends:
http://fashionsy.com/18-street-style-outfit-ideas-denim-shirt/

Subscribe to the blog