We Love You, Will You Be Our Valentine?
2015-02-06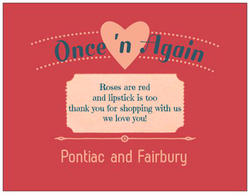 By: Stephanie Edens
Have you heard the news? Puxatoni Phil saw his shadow and has doomed us to 6 more grueling weeks of winter. But don't worry! There are a lot of exciting things to look forward to this February at Once 'n Again. We'll help you shop your way into Spring with big savings and great selection. Just think of it as 6 more weeks to get your closet prepared for the warm months ahead!
February- the month of amor, ardor, passion, L-O-V-E, love! The month of flower bouquets, boxes of chocolates, and valentine cards. We love a lot of things here at Once 'n Again: Dresses, Shoes, Accessories. COACH, Fossil, Dooney and Bourke. Sales, Savings, Shopping…and did we say Shoes? Well. We love those a lot. And most of all, we love you, our customers!
That's right, we love YOU, we absolutely adore you. We think you are the cat's pajamas, the bees knees, the…well you get the point. We really, really like you. And this Valentine's Day, we want to show you just how much by offering you all some special savings this Valentine's Weekend. Keep your eyes on your mailbox for a special Valentine filled with savings from us to you. And don't worry, even if you don't get something in the mail, we will have savings opportunities for you right at the checkout!
So, come to Once 'n Again to find your perfect date night outfit. Don't forget to check out all the displays throughout the store, our girls put together some really great outfits you're sure to love. And even if you're celebrating Galentine's day instead, we've got something for everybody! Everyday is a sale day at Once 'n Again, and our store is always changing with new items placed on the floor everyday. Shop the rest of the winter away and save big at both our Fairbury and Pontiac locations.
What do you say, will you be our Valentine this year? We know you'll love it!

Subscribe to the blog