Spring Fling with Bohemian Style
2015-02-18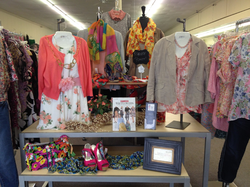 By: Stephanie Edens
First of all, we want to say a big THANK YOU to all of you who came to be our Valentine at Once 'n Again in Pontiac and Fairbury this past weekend! We had a terrific time celebrating with all of you. And while the day of love may have passed, we're still buzzing about the different things we adore. And for this spring, we are really digging the Bohemian trend.
For Spring 2015, this look has definitely been revamped. Flowy silhouettes in ultra-feminine prints and patterns are the highlight of the new Bohemian look. Gauzy, sheer materials are perfect for the warm weather soon to come. The Romantic, loose silhouettes flatter any body type and have the perfect bit of elegance for an elevated everyday style. What is not to love? We've seen this trend all throughout fashion week and are loving what's coming down the pipeline for all of us to wear.
Add some romance and feminine flair to your spring attire. And watch for these key elements when putting together your Bohemian chic wardrobe:
Embellishments: Bohemian is all about the details. Dangling embellishments, beautiful embroidery, fringe and tassels are what this style is all about! These little additions go a long way in transforming a piece and adding just the perfect amount of boho flair to any outfit.
Flowy, loose silhouettes: When you're shopping for Bohemian style, think Maxi dresses, over-sized, flowing tops, loose, light weight pants. These silhouettes are flattering on every figure.
Prints: Tribal patterns, water colored, kaleidoscope prints in beautiful pastels are key elements of Boho Chic for Spring 2015.
Gauzy, sheer fabrics: for an ultra-romantic aura, the Bohemian style is made with thin, almost transparent fabrics.
What do you think? Will you have a fling with boho chic style this spring? We are definitely thinking YES! Stop by Once 'n Again today to find some great, trendy outfits at affordable prices!

Subscribe to the blog