Financial Intelligence, We Can Help!
2015-03-03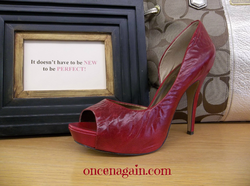 By: Stephanie Edens
2015 started with a bang! We love to be busy with customers' saving money and consignors' making money. We are looking forward to the awesome fashion in all of the seasons and sales still to come. Warmer weather is on its way, and there is no better way to get ready then by cleaning house and saving cash.
March is Credit Education month- it's all about being financially intelligent! At Once 'n Again, we pride ourselves on being economically and environmentally conscious, and we want to share that same passion with everyone who walks through our doors.
Last week we posted about five simple steps to cleaning out your closet. What does that have to do with Credit Education? A lot more than you may think. The first step to being financially intelligent is awareness. And being aware of your incomings and outgoings is a great way to becoming more intelligent in managing your finances. And it is also where we have several ways to help you out!
Once 'n Again offers an economically conscious way to manage your possessions. Through our Cash Now and Consignment processes, you are able to make smart money off of your family's gently used, name brand clothes. We also sell books, home-décor, and furniture (books, décor and furniture at Fairbury location only), helping you manage your entire home. Items that cannot be sold in store are donated to Frugality, where they are sold at accessible prices and the profits of which go to various charities.
The affordable prices and recycled nature of Once 'n Again's inventory offers customers a way to purchase recycled fashion at great sale prices. Shopping resale is a great way to be not only financially intelligent, but economically responsible. Shopping resale that is a local brick and mortar store (not online or franchised) adds more $$ to the local economy: Local Owner, Local Employees, Local Taxes, Local Profits, and Local Consignors.
Our services are great outlets to beginning the seemingly daunting process of managing your possessions and growing in your financial awareness. We've got a lot of sales coming up that we are excited about. Stop by this March and let us help you with your Credit Education!

Subscribe to the blog