Summer Trend Maxi Dress, How To Wear It Now!
2015-03-10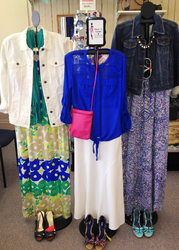 By: Stephanie Edens
Summer Trends to get in your closet NOW!
Warmer weather has come, the snow is beginning to melt, and here at Once 'n Again we've got a lot of events coming your way! What isn't to love about March? And now that the world is starting to thaw, we are going full speed ahead and thinking about getting our wardrobes ready for summer!
One key item that will definitely be a staple your spring and summer wardrobe this year? The maxi dress!
We talked about the maxi dress briefly in our post about a spring fling with Bohemian style. The maxi dress has been totally revolutionized this spring with new prints and silhouettes to love. To stick with the Bohemian trend, look for loose and flowy silhouettes, tassles, embroidery, and abstract prints. But maxi dresses look great in a slim silhouetted, solid or color- blocked, stripes or floral. It is versatile piece that you can dress up with layers of chunky and bold jewelry, or dress down with a simple scarf.
And do you know one of the best things about the maxi dress? It is a wear anytime piece! You can wear your maxi dress starting now! Just layer it with a comfy cardigan or with another wardrobe staple, the denim jacket. This is a classic look that will keep the last of the winter chill out while still letting you brighten and embolden you spring look.
Then, in a few months, shed the layers for a chic summer look. Paired with sandals and some sun-kissed skin, you will be on point in any maxi dress!
Start shopping for you maxi dress by stopping in the Fairbury or Pontiac locations today! And keep watching for our exciting sales. Next Monday, March 16th we're giving all you lovelies who come shop with us a special token of appreciation!

Subscribe to the blog