Shop Smarter!
2015-03-24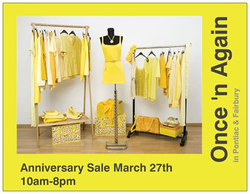 By: Stephanie Edens
Once 'n Again is all about keeping cash in the pockets of our customers. By shopping our great sales, you save some big money and look trendy while you do it. March is already almost over, and in the spirit of credit education and financial intelligence, we want to tell you the other ways that shopping with us is shopping smart!
Keep it Local! We mentioned this briefly when we talked about how using our stores could help in your journey to financial intelligence. Keeping it local is a big campaign when it comes to food- is it locally grown? Is it locally sourced? But this is just as important in other ways. By shopping at Once 'n Again, you are not only supporting your local community's small businesses, but you are also supporting your entire community! Local consignors bring in the items that we process and then put on the sales floor for you, our shoppers, to browse and purchase. Keeping it local also means that all the money stays within your own community, helping it grow.
Reduce, Reuse, Recycle! No, this is not just a slogan we tell kids. This is a way to help your environment, and also, to help yourself! Reduce: get rid of the clutter in your life! We have a few different posts to help you do this. Reducing clutter reduces chaos in your household and can help reduce stress in your life. Who doesn't want reduced stress?? We do! Reuse: at Once 'n Again, we find ways to reuse almost all of your consignments and donations! What doesn't make it onto the sales floor of either our Pontiac or Fairbury locations gets sent to Frugality. And we even have a way to reuse what doesn't make the cut at Frugality. In general, reusing is a smart way to increase your financial intelligence. If you can't find a way to reuse it, bring it to us and we will take a look! Recycle (our favorite part): This is more than your paper/plastic/tin items that are picked up once a week. We help you recycle fashion! Recycling is what keeps prices low, keeps cash in your pockets, and helps you to be a responsible citizen of the earth while also shopping smart!
This Friday, March 27 shop even smarter by stopping at Once 'n Again for Pontiac's 7 Year Anniversary sale! Join us for 20% off your purchase (furniture excluded). AND you can register to win one of 20 different prizes. Stop by for some Fun, Friends, Prizes and Discounts. Plus, we are open late until 8pm just for you!

Subscribe to the blog