How To Mix and Match Prints--Trend Alert
2015-03-31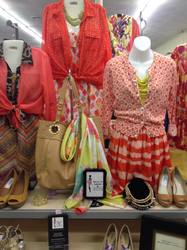 By: Stephanie Edens
Last Spring we talked a lot about going BOLD. And why not? Spring and summer weather is full of color and patterns, so shouldn't our wardrobe be the same way? At Once 'n Again, we say YES!
One way to incorporate a lot of fun into your wardrobe is through the little trick of mixing prints and patterns. For some reason, this specific fashion trend intimidates a lot of women. Even the boldest of us will shy away from mixing prints if we don't have a lot of experience. But, with the help of these five quick tips, you can work your way to pro-status as a print-mixing fashionista.
BIG and little: One of the best tips beginners can follow for print mixing and matching is the rule of big and little. To balance any mixed print outfit, and to keep it from being TOO loud, pair one large print, like a big floral or thick stripes, with a smaller print, like a checked shirt or thin stripe.
Cohesive Color: Instead of trying to match your mixed patterns (I know, why would you?), think cohesive color! When putting together your mixed outfit, pick one or two colors that will be the theme. If your large floral-patterned crew neck sweater is coral on navy, pair it with a button down that is cream with coral polka-dots. This is just an example- keep color in mind as you create your outfit and even if your prints don't match, you outfit is sure to be on point.
Neutral Details: Afraid your outfit is too loud? Layer and accessorize with neutrals! By adding on a denim jacket or hanging a large black tote on your arm can really help to tone down everything else going on with your outfit. The point of mixing is to go bold, but we all have to work our way there. Neutral shoes, layers, and accessories will stop the outfit from being busy and will make it chic instead.
When in doubt, Spread it Out!: If you are hesitant to walk out the door because your outfit just seems too busy- spread out your prints. Make sure your patterns are evenly distributed across your outfit. Instead of layering a printed blazer over a patterned top- stick with the one-to-one ratio of top and bottom. Always think to yourself-when in doubt, spread it out.
Beginner Basics: Still not quite sure where to start? Here is a list of go-to prints and patterns that you can mix and match between that are sure-fire ways to look like a pro in no time! Beginners try any combo of 2: Stripes, Floral, Polka Dots, & Cheetah Print.

Come find your prints and patterns to mix at both our Fairbury and Pontiac locations. And- stop by for our Easter Egg Hunt this Good Friday! Special discounts are hidden throughout the store just for you!

Subscribe to the blog