Double Your Fashion Recycling Efforts On Earth Day
2015-04-08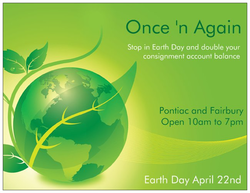 By: Stephanie Edens
Happy April, friends! The weather is warmer and the rain we've been having is only going to make the grass greener and the flowers more colorful. We wanted to say a big thank you to all of you who came out and made this past Easter weekend so special. We hope you loved the Easter Egg Hunt for discounts as much as we did! At Once 'n Again, we are already thinking about the next holiday to celebrate- Earth Day!
Ok, so it doesn't seem like such a big deal of a holiday. But that's where you're wrong. Earth Day is a big deal, especially to us. Once 'n Again is all about recycling. We focus on fashion a lot, because just like you, we love fashion and trends and styles! And we love celebrating our earth, and that's why we also talk about the ways you can recycle your gently used fashion through our consignment and cash now services.
On Earth Day, we have a way for you to get even more from your recycling efforts- Double your account balance! If you consign and shop with us, this holiday is really for you. Stop by and see us this Earth Day, April 22 and we will double your consignment account balance (limited to $100 total, we add a maximum of 50 to your 50) onto a gift card to be used in the store! If you aren't a frequent shopper- our gift cards make great presents for your thrifty fashionista friends.
By consigning and shopping with us, you're really doubling your recycling efforts: By consigning, you're stopping your clothes from clogging a landfill. And by shopping with us, you're purchasing gently used items from a (local) consignor, saving money, and also stopping those clothes from getting tossed out. It's a win-win for the earth, and that's why we're making it a win-win for you!
Come in now with your consignment items to really build your account in the next couple weeks! We're currently accepting summer items.
Not interested in consignment? We offer cash now for any season, any time.

Subscribe to the blog