Summer Trend, The Sheer Kimono
2015-04-14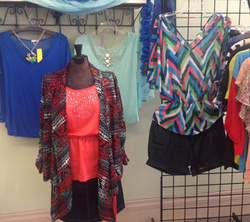 By: Stephanie Edens
We're midway through April, and now that Spring has officially settled in with all of its green glory, it's time to start thinking about SUMMER! At Once 'n Again, we started thinking about summer more than a month ago, when we began accepting Summer consignment in March. But now that all of our wonderful consignors have had an opportunity to drop things off, you can really start shopping for those must have summer pieces!
Rompers are still a big trend for summer 2015, and we're loving all the prints and colors they're in. Check out last year's post on how to find the best romper for your body style.
There are a lot of other summer pieces to fall in love with this year, and that's why we have a new highlight just for you. This week's fashion trend how-to: The Kimono! This lightweight, sheer layering piece is popping up everywhere and will be the perfect outer layer to get you from Spring to Summer.
One of the best things about this chic piece: It's stylish AND easy to wear! Instantly upgrade a simple summer outfit of shorts and a tank by layering with a lightweight, chiffon kimono. Or, for cooler spring days like we have now, throw it over a tee and some skinny jeans with sandals. It elevates any look, and is light enough to keep you cool for these rising temps.
Another great thing about the kimono: It comes in so many different styles. Silk or Chiffon, floral or fringe- the kimono is taking bits from all the trends we love right now. It is definitely a key piece for any Bohemian wardrobe, a popular trend we talked about a few weeks ago. To use the kimono to create a boho-chic outfit, look for the feminine florals or solid kimonos with the details we mentioned before: lace, fringe, and all those embellishments!
The kimono is one of many must-haves for Summer 2015! Stop by both our Fairbury and Pontiac locations to find all of your summer wardrobe needs.

Subscribe to the blog