What is Consignment? The 4-1-1
2015-04-21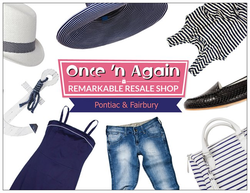 By: Stephanie Edens
So. You've been coming to Once 'n Again for a while now. And you know that we sell gently used items, and you keep hearing this word – consignment- thrown around quite a bit. We take clothes on consignment. We love our consignors. But what does it all mean? And, more importantly, just what COULD it mean for YOU?
We have tons of resources that answer those questions- our consignment link on the site, the FAQ page, and one of the best ways is simply by asking any of our wonderful employees. But, today's post is all about giving you the 4-1-1 on consignment so that you can become a super consignor today.
Consignment is different than resale, instead of simply buying your clothes for cash (which we ALSO do), we sell your clothes FOR you. With a one-time start up fee of just $10, we create your contract to place your gently-used, name-brand clothing items on our sales floor for 90 days. Once your item sells, you get 40% of the sale price deposited into your consignment balance. The more clothes you bring, the more items we sell for you, the bigger your consignment balance grows! It really is as easy as that!
Some general rules to keep in mind when bringing in items for consignment:
Is it in style?
Is it in good condition?
Is the original retail above $10?
Is it in season?
If you can answer yes to these, then definitely bring your items in and start your consignment account today!
And remember everyone- tomorrow is earth day! If you are a consignor you get another PERK...we double your consignment account balance on Earth Day every year!!
Celebrate the earth and recycling by stopping in and doubling your consignment balance onto a Once 'n Again gift card!

Subscribe to the blog