Stop The Clutter From Collecting Again
2015-04-28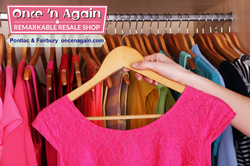 By: Stephanie Edens
This year, Once 'n Again has several blog posts about purging the excess from your closet. And with the decluttering comes a lot of opportunity for consigning the items that you haven't worn. But, just as important as getting rid of closet clutter is keeping the clutter from collecting again. So, you've purged the closets and made your trip to Once 'n Again to place items on consignment or sell for cash. Your next step? Organizing your closet!
There are many benefits of a well-organized closet. Saving time and eliminating stress in the mornings- who doesn't want that? We can all get off to a much better start if choosing an outfit was quick and easy! On top of that, an organized closet will help to keep clutter from piling up again.
A quick Google search about organizing closets will bring thousands of results, all with helpful tips and tricks. But we'll condense some of it for you right here and give you some tried and true (and even new) ways to organize your closet and keep it that way!
Organize by like items: Tops with Tops, bottoms with bottoms, Jackets, Dresses. Separating your wardrobe this way will help you build outfits more easily. Find a bottom you want, match with a top, throw on a jacket and you're all set!
Organize by Color: Take it a step further and organize each category by color. You can follow any color wheel or organization you feel most comfortable with. By having like colors together and your clothes organized this way, pairing items will become that much simpler! (And, you might even be able to eliminate more items when you notice you have maybe just one too many purple tops!)
Set up for Success: Figure out your best way of making sure you keep track of what items you do and don't wear. One popular method is to face hangers opposite from how you normally hang them, and then once you've worn an item you flip it around. After six months, whatever hangers are still facing opposite are items you're not likely to wear in the next six months- Consign them while they're still trendy! Or- if hanging items backwards seems awkward to you, try the tab method: Hang tabs (little pieces of colored paper) on the hanger that you tear off once you've worn the item. Again, after several months pass, any items still with tabs should be purged!
Storage: Remember to save room in the closet to store out of season items. This way, when you're building your outfits in the morning you will only be looking at what you would actually wear. This also helps with setting up for success- if out of season items aren't the issue, then you know the unworn clothing is simply items you no longer wear!
While purging and decluttering seem to be never ending tasks- keeping an organized closet should help eliminate the need for an entire closet overhaul. You'll have a better idea of what items you do or don't wear, what items you should purge and consign/sell for cash at Once 'n Again, and make getting ready in the morning easy-breezy!

Subscribe to the blog