Jeans, Jeans, Jeans on Consignment
2013-10-10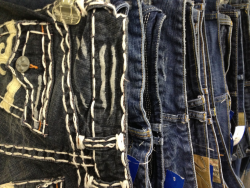 By Traci Hassett
Where can you find the right jeans?
Jeans are one of the most important articles of clothing in any wardrobe. The right jeans are hard to find. There are so many brands, sizes, and pocket styles...choosing the right jeans can be overwhelming. When shopping for new jeans you could spend between $40 and $200 or even more. After one wash they all seem to change in fit. This is why buying gently used jeans is the best way to go. Not only have the jeans been washed and shrunk for a better fit but you also save money. Once 'n Again sells jeans for a fraction of department store prices.
At Once 'n Again we have a small selection of designer denim...like Joe's Jeans, Miss Me, & Citizens of Humanity and a very large selection of flattering jeans from J Crew, American Eagle, Gap, Ann Taylor and more. With hundreds of pairs of jeans in stock at all times and more arriving daily we are sure to have something to meet your needs. Stop in and try some on! Once 'n Again has locations in Fairbury, IL and Pontiac, IL.

Subscribe to the blog