Dress For Your Body Type
2015-05-11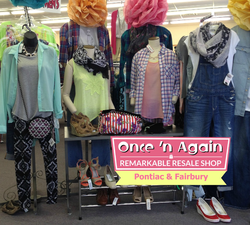 By: Stephanie Edens
May 11th is National Eat What you Want Day*. When you think about it, shouldn't everyday be Eat What you Want day? Instead of trying to make ourselves into one type of category- the images we see on magazine covers- we should allow ourselves to be whoever makes us happiest. So this Eat What you Want day, Once 'n Again proposes that instead of feeling tons of pressure to change your body, you dress for the wonderful, natural body shape that you have!
The first step in dressing to your body type is knowing your body shape and the proportions that make up that shape. Here's a quick guide to some common body shapes and how to dress to them:
Pear
Body traits: this body type has a lower body that is wider than the upper body. Think Kim Kardashian or Katherine Heigl.
Dress it up: emphasize your waist and arms, minimize your hips. Avoid printed skirts or anything that over-emphasizes your hips. Look for A-line skirts, darker bottoms paired with lighter tops, sleeveless tops and dresses to emphasize that part of your body, and jackets that hit right above the waist.
Hourglass
Body traits: your shoulders and hips are similar in proportion and they're offset by a smaller waist. Celeb with this body: Beyonce!
Dress it up: Show off your wonderful curves! You can wear anything! If you're looking to emphasize your shape, do wear form fitting dresses, wrap dresses, skinny jeans, and high waisted bottoms!
Wedge (inverted triangle)
Body traits: broader shoulders in contrast to narrower hips and waist. For celebs with this shape, think Demi Moore or Renee Zellweger.
Dress it up: For this body type, your legs tend to be your best asset and you definitely want to accentuate that! Bright colored pants or skirts, wide leg bottoms, high-waisted styles, and tops that call attention to your waistline are definite Do's for you!
Rectangle
Body traits: Your body type tends to be similar in size from your shoulders to your hips. Celebs with this shape, Kate Hudson and Natalie Portman.
Dress it up: This is all about wearing clothes that create curves and the illusion of a smaller waist. Wear scoop neck and sweetheart necklines, dresses with cinched waistlines, tops with collars or ruffles and fun colored bottoms. Another great tip for this body type is to think layers to add dimension to your body!
This is a great start to dressing for your body type, and there is tons of great information online that can help keep you going. So what do you think? Will you be continue celebrating Eat What you Want day even after today? You can still have a healthy and beautiful lifestyle without all that unnecessary stress and guilt about what you're eating. Stop by Once 'n Again to find some great, body flattering items to add to your wardrobe!
*Eat What you Want Day was created to "help people break away from the frustrating health and diet trends of our time" says an online article about this holiday. And eating what you want doesn't mean eating poorly- it means whatever you want, without any guilt or stressful counting calories.

Subscribe to the blog