Let Me Tell You 'bout My Best Friend!
2015-06-02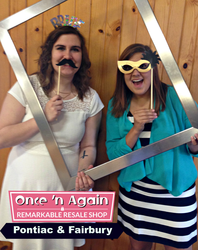 By: Stephanie Edens
A best friend is a rarer and more precious thing than even the best fitting jeans or the most comfortable yet stylish shoes that, somehow, go with every outfit. And if a good man is hard to find, then a best friend is even harder- that's why we keep ours for so long, share them so little, and treat them so well!
Best friends know exactly what you need to cheer you up, relieve your stress, and celebrate your best moments: food, wine, or a great shopping trip. Definitely a great shopping trip! And best friends make THE BEST shopping companions.
Here are three reasons you should always bring your best friend when shopping:
They know your style: Sometimes when we shop alone we have the hardest time finding things for ourself. We think we know our style. We are the ones that wear our own clothes everyday. But when there is so much to choose from, you can start to forget what you really want. Having a shopping companion who knows you, knows your style, and knows what you'll good in is just THE GREATEST thing ever, and a best friend does all that and more. She will walk racks and pick things out for you, she'll encourage you to try things on that maybe you're hesitant about. Somehow, your best friend knows you better than your know yourself. But it certainly makes for a great shopping trip.
They understand you: Let's be real, ladies: sometimes shopping isn't always that fun when you dread going into the fitting room. The guys in our life just don't seem to understand that there are days where we just don't want to see how we look in things. Your best friend GETS THIS! That is why she should be your shopping companion. She knows your style and your size, so she can help you weed out what you need to try on. She can also be an incredible buffer against all the negative thoughts that bombard you when nothing seems to fit- she directs you toward the shoes and accessories- the safe zone- and helps you find the cutest wallet that instantly lifts your mood. You'll conquer those jeans next time- and she'll be right by your side again!
They're HONEST: Let's face it ladies, honesty is key whenever you make a purchase. Your best friend would NEVER let you buy those jeans that are way too tight simply because she's too afraid of hurting your feelings. Your best friend will straight up tell you if something is not your style, doesn't complement your skin tone, or simply doesn't flatter you. BUT a best friend will also be the most enthusiast supporter when you find that dress that looks perfect, she will compliment you so hard you will know you MUST buy it. And, she will also be honest about when you should splurge and treat yourself.
And even better? Next Monday at Once 'n Again we are celebrating National Best Friend Day. So having your best friend as a shopping companion can literally save you both some cash! Not only will you be able to shop Once 'n Again's incredible deals, you will also both save $5 off a purchase of $15 or more just by shopping together! Won't you tell us about your best friend? Stop by next week!

Subscribe to the blog