Weddings: What To Wear As A Guest!
2015-06-15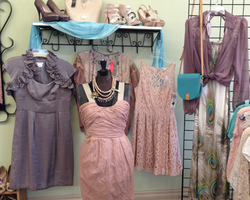 Summer 2015: Your Wedding Guest Wardrobe Guide!
By: Stephanie Edens
April showers bring May flowers, and sweet summer days bring weddings, weddings, and more weddings. Yep, you guessed it. We are in full-on wedding season guys! And I've got a couple of quick tips to help you navigate the do's and don'ts of your summer wedding wardrobe!
Do:
LBD: Little Black Dress. Yes, you CAN wear this wardrobe staple to a summer wedding even though it's black. It is a classic, so you cannot go wrong, just keep your fabric thin or sheer, and keep the silhouette light.
Maxi: this summer trend can be your go-to look for a summer wedding. Dress it up with a chic print, glitzy accessories, and heels to top of the look.
Vintage style: Look totally glam at any summer wedding with a vintage inspired look; tea-length, classic A-line skirt, a 50s or 60s inspired dress adds instant elegance and is perfect for casual and formal summer weddings.
Mini: Obviously a classy mini dress is your perfect go-to for summer weddings! Keep it casual with a denim jacket or dress it up with the accessories and shoes. This is especially perfect for those hot summer nights when you're dancing your cares away at receptions.
Don't:
Anything resembling club attire: Too short, too tight, cutouts, lowcut, etc. This is the bride's day and you definitely don't want to draw any undue attention to yourself because your attire is less than casual. Keep it classy, ladies!
White: This is for those who are old fashioned. Or, even more importantly, if the bride is old-fashioned. It's an old taboo and an old tradition, but for this wedding "don't" you should ask the bride-to-be what she prefers!
At Once'n Again we understand your summer wedding needs- in fact, we just celebrated a special wedding not too long ago! In Fairbury and Pontiac we have a great selection of dresses for all your casual and formal summer weddings, and a terrific resale prices!
Plus, next Thursday, June 18, is National Splurge Day. It's the day that you can buy that higher ticket item you've been eyeing. And you don't even have to bring your best friend this time to feel guilt free, because Once n' Again is offering you $20 off anything priced over $80! A Coach handbag is a great accessory for any summer wedding, and if you do happen to bring your best friend again she can get a great deal too!

Subscribe to the blog