Donate School Supplies & Receive 20% Off
2015-08-01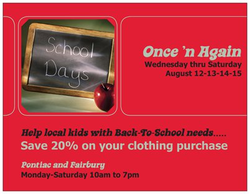 Once 'n Again's Annual Back-To-School Supply Drive in 2015 for local students in need is August 12th-15th!
Want to assist local kids in need with school supplies….We can help! We asked local school counselors and this is the list that they gave us. Donate any one of the following items (new and unopened) and receive a coupon from Once 'n Again:
2 packs of #2 pencils
1 box of Kleenex
1 box anti-bacterial wipes
1 package of 10 markers
2 glue sticks
10 folders
zip-lock bags any size
1" 3-ring binder, 2 spiral notebooks
1 package colored pencils
ear buds
post-it notes
book bags
Stop in Once 'n Again Wednesday August 12th thru Saturday August 15th , with your school supply donation and save 20% on your clothing purchase for the day.
Shop at Once 'n Again before you head to the mall we can meet your Back-To-School clothing needs plus we give back to the community.
All school supplies donated to Once 'n Again will be given to local school counselors to distribute to kids that do not have the basics that they need to succeed in the classroom.
Thank you from Once 'n Again

Subscribe to the blog