Shopping is a Sport
2013-10-15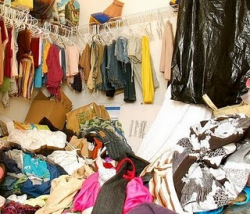 Yikes! Is your favorite "sport" shopping? Does your closet look like this?
This article was originally published in 2008 in The Bugle. The Bugle is out of business but the article is still relevant today. Even clothing depreciates in resale value the longer you hold on to it. Consign your clothing sooner rather than later. When I say consignment shop...think Once 'n Again :)
Shopping for Sport! By: Traci Hassett
Have you noticed that there are now many many more places to shop than when you were a kid? Have you ever wondered how all of those places stay in business with so much competition? The short answer is we do not need or use many of the things we buy, we shop for sport. Some of the definitions of sport are: diversion; recreation; pleasant pastime; something subject to the whims of fate or circumstances.
Shopping is no longer something we do because of need, it is a diversion, entertainment for an afternoon, a sport. The things that we buy while being entertained are discarded shortly after the sport is over, stuffed in a closet somewhere or shuffled around endlessly. Some of the clothes we buy are worn once, they are not our favorite and we have so many other choices, we do not wear it again. Our kids grow so fast, their clothes still look new. We see the perfect framed print with matching candlesticks and bring it home to find out it really does not look as good in our own living room. We look around our homes, especially our closets and storage areas, and we see clutter……lots of space filled with things that we do not use.
Since we are not likely to stop shopping for sport anytime soon, what are we to do with all of the excess? Are garage sales too time consuming? Do you want to declutter so that you can have space to shop for more? Are you interested in recovering some of the investment in your favorite sport, shopping? Would you like to recycle but do not know how to get started? Resale is recycling and the perfect place to sell your underused possessions is your local consignment shop. Then you can re-load and start all over again. You may even be so impressed with the selection at your local consignment shop that you add it to your list of pleasant pastimes for the next afternoon of shopping.
You can make money for your next shopping adventure at a consignment shop if you follow some easy rules. Bring only the best of the best, and bring it ready to sell. The consignment shops do not want your old paint clothes, they want the things that still have the tags on them. The consignment shops do not want your 10 year old jeans. They want the things you bought last spring wore it once, and have not worn it since. The consignment shops do not want your faded 15 year old framed print, they want the print and candle sticks you bought last year that never quite worked at your house. They want the things that are only a year old and still found at the mall. Those are the things that bring top dollar at the consignment shops. The time to get rid of clutter is sooner, not later, just like everything else, it depreciates in resale value as time passes.There is no time like the present to visit your local consignment shop, where recycling and the thrill of finding a bargain are both fashionable and fun.

Subscribe to the blog