Selling Your Winter Coat
2015-10-06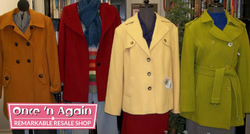 We often get the question; When is the best time to consign (sell) my winter coat? The answer is now, the first week of October. Of course, anytime in late September or October is also a good time. We sell more winter coats in October and November than any other time of the year. When is the worst time? Late December or January--everyone is looking for a really good deal. However, your coat will not have any extra discounts and will look overpriced if you bring it in that late in the season.
When bringing your winter coat to us to sell make sure that it is clean, free of holes and stains, the zipper works, all of the buttons are present. Winter coats are generally a high ticket, high demand item. Yet, they almost always have condition issues and are the hardest to accept and put on the sales floor. Many folks do not follow the most basic condition rules when bringing in a coat. If it is washable, stain treat the sleeves (and other problem areas) and wash it…then bring it in. If it is dry clean only…dry clean it or at least make sure it does not have last year's mustard on the front. Spot treat it before you bring it. Frugality gets a lot of nice coats because the consignor doesn't bother to wash or spot treat the coat before bringing it to us. A customer will pay $3-5 to Frugality for a nice coat with a stain or that is dirty. Our Customers' expect better from Once 'n Again and will not pay a nickel for it if it is in poor condition/dirty/stained. Once 'n Again will not generally wash it for you…we will just donate it to Frugality. We handle tens of thousands items that are in good condition….there is no way to justify the effort and cost to handle any one item the number of times that it would take to wash it and process it. Bring your coat ready to sell.
What are the current trends in winter coats? We like any kind of pea coat, moto coat, military style or the new "cocoon" coats. Popular colors are: burgundy, olive, any shade of gray (black and navy) and even mint green. Plus, camel is back as a most wanted color. There is still the ever present animal print, fresh plaids, and other menswear prints. We are still seeing some puffer coats…even some that are shiny. Of course, The North Face and Columbia cannot be left out of any winter coat trend report.
Do we give cash now for winter coats? Yes we do! Make sure it is in excellent condition as listed above.
Stop in today to bring us your coat to sell or pick up a "new to you" coat at Once 'n Again!

Subscribe to the blog