Get Your Once 'n Again Comeback Bucks!
2015-11-04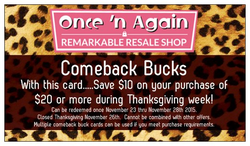 Attention all Once 'n Again Shoppers….we have a special deal for you! Shop during the first three weeks of November 2015 and receive coupons (comeback bucks) to shop for up to 50% off during Thanksgiving week!
What are Comeback Bucks? Comeback Bucks are a coupon that we attach to your original Once 'n Again sales receipt dated between Nov 3-21, 2015 to come back and shop another time.
How can I get Comeback Bucks? Shop anytime November 3rd thru Saturday November 21st , 2015 and spend $10 (before tax) or more. We will only give you one coupon per person making a qualified purchase per day.
When can I use the Comeback Bucks Coupon? Thanksgiving week (Nov 23-28) anytime 10am to 7pm. We will be closed on Thanksgiving November 26, 2015.
How much do I save with the Comeback Bucks Coupon during Thanksgiving week? If you have a comeback bucks coupon in hand you will save $10 on your purchase of $20.****
How do I use Comeback Bucks? Bring your $10 Comeback Bucks Coupon (with your original receipt still attached to it) anytime November 23-28, 2015 and spend $20.
Can I use more than one Comeback Bucks Coupon on a single purchase? Yes, if you meet the purchase requirements for each coupon. Example: You have 3 Comeback Bucks Coupons, you can use all three of them on one purchase if the total purchase before tax is $60 or more. In this example you would save $30 on your purchase of $60.
****Don't forget the comeback bucks coupon, discount will not be honored without it. Comeback Bucks coupon will not be honored unless you leave your original Once 'n Again sales receipt attached to it. Photocopies or digital representations of comeback bucks will not be accepted. Lost coupons will not be replaced. Coupons will not be given for prior purchases. Comeback Bucks cannot be used with any other discounts or offers.

Subscribe to the blog