Help us help those in need!
2014-01-08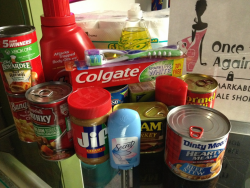 By: Traci Hassett
This January is the 12th time we have collected food and necessities for local food pantries. We started the food drive because I was told that donations to food pantries declined in the winter and I thought that our customers/consignors might want to help. They did. So we continue to collect donations for those in need every January.
This year we are trying something different. We are not giving a coupon for just any donation, we have a list of items that if donated receive a coupon. Several years ago while chatting with an acquaintance that was often hungry as a child, I asked her what kinds of things she wanted or needed from a food pantry. She grew up in a large city and her father passed away when she was young. Her mother worked two jobs to try to support their family of five….they often fell short. She said that when you are hungry….a can of lima beans will not be very useful…a can of pears is not enough. As a kid that is hungry you will eat those things…but you need more than that. She said any meal in a can, any meat in a can, & peanut butter were the best to stave off the hunger. She is no longer hungry; she is a professional with a doctorate degree that spends a lot of her time helping those that are hungry and struggling financially.
A food pantry representative once told me that necessity items are often useful...not everyone that is struggling financially receives government aid….and they often do not have the money to buy basic necessities.
At Once 'n Again we want to collect useful and thoughtful items to those in need. We can do better than a can of lima beans or pears. So in January 2014..let's do better. The coupon that we give is for 20% off your purchase; furniture is excluded and there is a limit of one coupon per donation, per day. This is a generous discount absorbed by Once 'n Again…not the consignor. In order to receive a discount coupon bring an unopened/unexpired item from this list: Beef stew, chili, any meal in a can, soup (any flavor), meat in a can (any kind), peanut butter, wrapped bath tissue, laundry soap, shampoo, body wash, 3 pack bar soap, toothpaste, toothbrush, & deodorant. Items not listed here will be accepted and passed along to the local food pantries…but will not receive a discount coupon.
Donations brought to the Fairbury Once 'n Again will go to the Fairbury Community Food Pantry. Donations brought to the Pontiac Once 'n Again will go to the Livingston County Community Food Pantry.
Thank you for helping us help others!

Subscribe to the blog