Mother's Day Sale
2016-04-29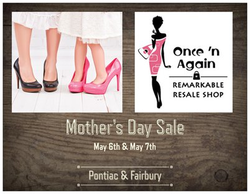 Happy May Everyone! One of the best and most beautiful months of the year is here and we at Once 'n Again couldn't be happier. Proms, graduations, weddings, the kick-off of summer- May has many reasons to love it. And one of the most important reasons May is one of our favorites: MOTHER'S DAY!!!
There is no better way to kick off one of the greatest months than with one of the greatest holidays. Mothers are particularly special to us here at Once 'n Again; they tend to do the most shopping for the family, and they also tend to be the ones cleaning out those over-filled closets. Mothers make up a great majority of our consignors and customers alike.
Mothers deserve to be celebrated for so many reasons, and we knew that celebrating all the wonderful mothers in our lives couldn't be crammed into just one day. So at Once 'n Again we're having a weekend celebration!
This Friday and Saturday, May 6-7, we're having a special event to honor mothers. Stop in and you can save up to 30% on your clothing purchase. Here's how:
If you are a Mother bring a photo (printed or digital) of your family and save:
15%-One Child
20%--Two Children
25%--Three Children
30%--Four or More Children
Not a mom? No problem! Bring in a picture of your mother and save 10%! Ask in store for details and exclusions.
Come and celebrate these wonderful women with us for our Once 'n Again Mother's Day event this weekend!
***Community Sale in Fairbury is on Saturday May7th. If you like to shop at the Fairbury Once 'n Again. I suggest you stop in anytime on Friday or after 2pm on Saturday May 7th. There are thousands of people in downtown Fairbury for the Community Sale (it is on the street in front of the Store) and parking near the store is unavailable until after 2pm on Saturday. Sorry for any inconvenience, I hope you will stop in anyway!

Subscribe to the blog