Let Once 'n Again Sell Your Jeans For You!
2016-06-20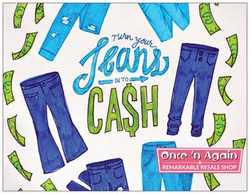 Jeans? Back-To School? We just reached the official beginning of summer but, it is also time to start thinking about a mid-summer closet de-clutter! They say the early bird gets the worm- find your denim, sneakers, and backpacks to bring in early July so that we can be ready when the back-to-school shopping starts around July 20th.
No one knows more than our mom's out there that when it comes to mid-summer, it is actually time to start prepping for the back-to-school rush. While the kids are out at the pool, at camp, or just running around with friends, it is the best time to get in those disaster zones they call closets and sort out last year's fall items. If you've used some of our closet organizing posts, this may be easier for you!
Once 'n Again is looking for denim (all ages, sizes, and genders) for our back-to-school sales coming up. We start accepting Fall Consignment July 1st. For our regular consignors, you know just what we're looking for. But for those who might be curious about consignment (or selling to us for Cash Now) for the first time, bring your name brand items in excellent condition and less than 2 years old for us to sort through and sell for you. Fall to us means--jeans, cardigans, light weight long-sleeves, layering pieces, thin sweaters, backpacks, sneakers, and jackets! Check out our website for more information about our customers' favorite brands, consignment, and our seasonal guidelines.
Bring your jeans to Once 'n Again in Fairbury or Pontiac for either Cash Now or Consignment. And remember, we always have great tag sales going on, so you may just find something you love as a reward for all your closet de-cluttering hard work!

Subscribe to the blog