2016 Fall Winter Fashion Trends For Women
2016-09-09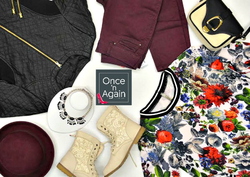 Do you follow fashion trends? I am always looking ahead to see what will be fashionable in the upcoming season; part of it is my job leading Once 'n Again but mostly I have always been interested in fashion. Some of the forecasts are reasonable and believable then there are some we laugh at and think it will never "catch on". Sometimes we are right about it but occasionally, in the not so distant future, we are wearing a version of the trend we were laughing at.
We live in the Midwest so we know some of the trends will never make it far enough from the coasts to reach us in their wildest forms. Which of the trends for Fall 2016 do you think we will see?
Colors: pumpkin spice, olive, and burgundy with a splash of light pink, mustard, or large bold floral print
Menswear clothing themes for women including gray plaids & updated pinstripes. Menswear shoe themes including loafers, tan construction boots, and wing tips all with a feminine touch. Menswear plaid handbags and boots.
Embellished guitar straps for our handbags.
Bold chokers and super chunky heeled boots (Think Herman Munster or David Bowie).
Metal details, tinsel, tassels, and shiny patent leather.
Velvet, bell sleeves, and corsets…think Renaissance or Madrigal. (I'm starting to giggle)
Boots with lots and lots of laces. Quilted shoes and western prints.
80's one shoulder look with ruffles! (I am laughing hard now)
Statement Furs coats and stoles. I'm sure this is not what "they" mean but I am envisioning a 50's fox stole that is actually a fox snout and it hooks around your neck…the clasp is partly his teeth. (Laughing so hard tears are streaming...I shouldn't laugh we have sold some not too long ago.)
90's look—logo sweatshirts, oversized hoodies, boxy sweatpants.
Reconstructed denim for an artsy vibe—some of the pics look like seventh grade sewing project gone wrong. But it may catch on.
Whether laughing or crying about the upcoming trends we have many of the looks you are searching for now. Stop in and see what is "new" at Once 'n Again in Fairbury or Pontiac, IL or visit oncenagain.com for more information about us.

Subscribe to the blog