Girl's Night Out--Except...It Lasts All Day!
2016-10-21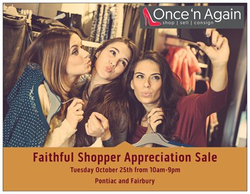 Once 'n Again is having its best year ever…again this year. It is all of you, our customers and consignors, who are responsible for our success. That is why we're having a Faithful Shopper Appreciation Day next Tuesday October 25th, 2016.
Years ago, we used to host this event at night from 6-9pm like a Girl's Night Out. It became so popular that we had to extend it to all day long (it lasts from 10am-9pm now). That is so awesome and we love this event.
For those who have been shopping at Once 'n Again for a while, you know that this is THE DAY to stop in. But for those who don't know or don't remember how great Faithful Shopper Appreciation Day is, here's a quick list:
Save 20% on everything (except furniture)! That is on top of any other clearance prices. A great savings!
Enter in to win one of 20 Once 'n Again Gift Cards! When you stop in to shop, put your name in the drawing (you can enter one time per store). The only way to register to win is to stop in on October 25th. No purchase necessary to win.
The Grand Prize is a NEW COACH Handbag ($395 value)! You know that you don't want to miss out on this! Stop in on October 25th to register, no purchase necessary.
Open late until 9pm just for You!
Beat the fitting room rush by stopping in on Monday October 24th between 10am and 7pm to try everything on. We will hold your choices until Tuesday October 25th for the sale.
It is because of our Faithful Shoppers that Once 'n Again has been going strong since 2001 in Fairbury and 2008 in Pontiac! From the day our store doors opened up until now, you've given us just what we had hoped for: the chance to give you awesome style at great price. You have helped us to keep growing and providing a remarkable resale experience, and for that we are having a day to say THANK YOU.
Stop in next Tuesday , October 25th (10am-9pm) for friends, fun, prizes, and discounts. You definitely deserve it!

Subscribe to the blog