Once 'n Again's 15th Anniversary Gift To You!
2016-10-27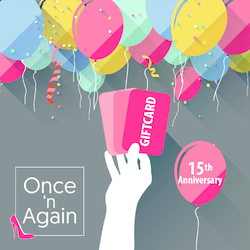 Once 'n Again is a success story 15 years in the making! We had quite a humble beginning on November 1, 2001—does anyone remember what the store looked like when we first opened? We had trouble filling the store with clothing...we didn't even use the balcony. We have learned a lot over the years and have used that knowledge to expand. Who would have thought that opening an additional store in Pontiac would have made business in Fairbury grow at a much faster rate? Who would have thought that a resale shop could pump millions back into a dying local economy? We hoped it could and planned for it. With perseverance and a loyal customer/consignor base, Once 'n Again has been serving the communities of Fairbury and Pontiac for 15 years...and counting!
We couldn't have succeeded without you, on our 15th Anniversary we will give you a gift. On Tuesday November 1st, 2016 if you buy a Once 'n Again gift card for $15 we will add $15 to it for free. That is the equivalent of a 50% discount when you make a purchase with the gift card. Gift cards never expire and there are never any fees if you do not use them quickly enough. Limit one gift per person. Another limitation is a gift card purchased in Fairbury can only be used in Fairbury and the same with Pontiac.
Thank you faithful shopper we are grateful. We are looking forward to the next 15 years!

Subscribe to the blog