Darn it, clothing is a sunk cost!
2014-02-04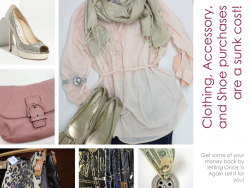 By: Traci Hassett
Last summer you were in a wedding and fell in love with a pair of Jimmy Choo's that cost $695, you settled for the Kate Spade Slingbacks for $325. Your best friend or your daughter will only get married once (you hope)...so you splurge. Your feet were killing you all day and you know that you will never wear them again. How about that coach handbag that you bought last fall for $358...it is just too big. You spend too much time digging for everything that fell to the bottom...so it sits in the closet. I have some bad news....both purchases are a sunk cost, and you should cut your losses sooner rather than later by letting a consignment shop sell it for you....or letting a resale shop buy it from you.
Clothing is not an investment, it does not increase in value (unless you are Elvis). Let's face it, a clothing, shoe, or handbag purchase is a sunk cost. A sunk cost is defined as a past cost that has already been incurred and cannot be recovered. When you buy a pair of Kate Spade slingbacks, Coach Handbag, Calvin Klein dress, or Joe's Jeans…the minute you use or wear the item the purchase price is a sunk cost…the money is gone. Your only hope to recover any of the money is to sell your clothing for its current market value….the sooner the better for you.
Garage sales, Craig's list, and e-bay are very time consuming. How much is your time worth? Your best bet is to consign your clothing at a consignment or resale store like Once 'n Again. You will pay them up to 60% of the current market value of your item to sell it for you. The consignment shop will do all of the work and can likely get more $ for it than you can on your own….especially if you assign your time a value and subtract it from the selling price. Many resale stores offer cash for your items without the consignment process…even easier and quicker for you.
Are you done with it? If so, hire a good consignment shop to sell it for you and recover some of that sunk cost.

Subscribe to the blog