Once 'n Again's First Estate Fine Jewelry Sale
2016-12-10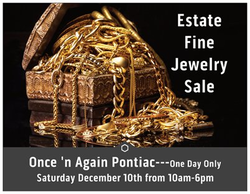 We are so excited to announce our first Estate Jewelry Sale on Saturday December 10th in the Pontiac Store. Once 'n Again received more than 100 pieces of Fine Jewelry from an Estate; 10K-14k gold bracelets, pendants & necklaces; 14K San Marco necklace and bracelet Set; 14K Omega necklaces with many gemstone slides to go with them; a beautiful vintage 14K white gold KLJCI bracelet by Robert Klein with tourmaline, citrine, diamonds, and more; a peridot and amethyst tennis bracelet, many sterling silver pieces, and much more. This is not scrap jewelry or gold plated—it is in excellent condition and ready to wear or give as a gift! We base our prices on market value and the current price of gold. The estate also includes a large selection of Brighton fashion jewelry. Traci will be in Pontiac on Saturday selling and answering your questions about the jewelry. The fine jewelry from this estate will only be available for sale on Sat December 10th.
When we received this consignment from an estate we decided it was the perfect time to expand our merchandise selection to add fine jewelry. We define fine jewelry as authentic gold (not plated) and authentic gemstones. Some others define fine jewelry as precious metals and precious gemstones. We are excited to add Fine Jewelry to the list of merchandise that we consign and sell….but we are not quite ready for it yet.
Whenever we do a sales event there are always a lot of questions about our consignment policies, at this time we are not ready to consign any more fine jewelry. If you are interested in consigning your Fine Jewelry, we will put your name on a list and contact you when we are ready to sell it. We already have the jewelry testing and evaluation equipment but we need to do some training & remodeling of the cases. We will not be a pawn shop or a cash for gold store….no scrap, only items in excellent condition and ready to wear. We will only sell fine jewelry for those that have a consignment account…because of the time it takes to evaluate, we will not buy it or give cash now for it. Sign up in store to receive the notice when we are ready to sell your fine jewelry.
We are looking forward to seeing you in Pontiac for this new and exciting sales event on Saturday December 10th! Discounts/coupons may not be used for this event. We are confident that we are offering the jewelry at a fair market price and will not haggle. Our Fairbury location is not participating in the Estate Jewelry Sale but is open as usual from 10am-7pm.

Subscribe to the blog