Buy One Gift Card, Get One Free
2016-12-07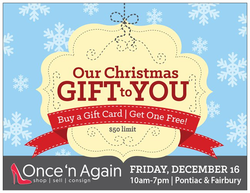 Buy one gift card and get one gift card free! It is our Christmas gift to you…to thank you for your loyalty. On Friday December 16th (from 10am-7pm) we will match your gift card purchase up to $50 (free). Yes, if you purchase a $50 gift card, we will give you another $50 gift card for free (quantities are limited).
As you can imagine, this event is very popular and we love it. However, there are some restrictions.
Here are the details:
There are no fees and the gift cards do not expire.
You can use the gift cards when you buy them or wait until another time.
The Once 'n Again gift card that you purchase in Fairbury can only be used in the Fairbury store. The Once 'n Again gift card that you purchase in Pontiac must be used in the Pontiac store.
Because this event has become so popular, we have to limit the number of gift cards to 2 per person (limit $50 free) per store. To clarify--Buy one get one equals two gift cards...limit of $50 free per person per store.
This offer is limited to gift card stock on hand and has no cash value.
You must come into the store to purchase your gift cards on Friday December 16th, 2016 between 10am and 7pm. No phone orders will be accepted. Everyone will be limited to 2 gift cards.....so you will not be able to send your sister to get your gift cards when she purchases hers.
Cash, consignment account credit, and Visa/MC are the only forms of payment we accept when purchasing a gift card.
If you already have a Once 'n Again gift card with a balance and are purchasing this card for your own use; we encourage you to bring it and we will just reload it….instead of giving you another card to keep track of. Reuse, recycle, reload ;)
Thank you for shopping and consigning at Once 'n Again we are truly grateful. It is because of you that we are successful. Looking forward to another great year in 2017......see you soon!

Subscribe to the blog