Food & Necessity Drive For Local Pantries
2016-12-21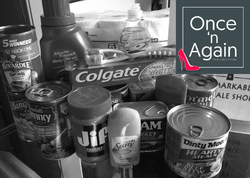 We started the food drive 15 years ago because I was told that donations to food pantries declined after Christmas. Many folks like us want to help, but just don't know how….we make it easy. Every January we will collect your food or necessity donation then pass it along for you!
At Once 'n Again we want to collect useful and thoughtful items for those in need. In January of 2017, we can do better than a can of lima beans or pears.
We offer a coupon for $1 off your $5 purchase for each household donation per day.* The discount is absorbed by Once 'n Again…not the consignor. In order to receive a discount coupon bring an unopened/unexpired item from this list:
Beef stew, chili, any meal in a can, or peanut butter
Soup (any flavor), meat in a can (any kind)
Wrapped bath tissue, laundry soap, shampoo, body wash, 3 pack bar soap, toothpaste, toothbrush, or deodorant
Items not listed here will be accepted and passed along to the local food pantries…but will not receive a discount coupon. The coupon may be used once and will expire on January 31st. This coupon may not be combined with other offers.
Donations brought to the Fairbury Once 'n Again will go to the Fairbury Community Food Pantry. Donations brought to the Pontiac Once 'n Again will go to the Livingston County Community Food Pantry.
All you have to do is bring your donation between the dates of January 2nd and 16th. We will give you a coupon that you can use once that day or one time before January 31st.
Thank you for helping us help others!
*The coupons are limited to one coupon per approved donation per household per day. If you donate 5 cans of beef stew on one day you get one coupon. If you come in on 5 different days during the promotion and bring one can of beef stew per day...you receive 5 coupons. Daily visits to see whats "new" are recommended and rewarded in this promotion.

Subscribe to the blog