Consignment or Cash Now; You Have Options At Once 'n Again
2017-01-24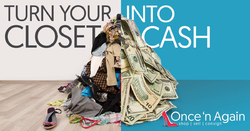 Calling all super shoppers, shopaholics, and trend setters. We want you. Yes, you! The ones who frequent the mall, the department stores, the online retailers. The ones who know the thrill of getting those perfect shoes in the mail maybe just a little too well. We've got a solution to help you purge that bursting closet and pad your wallet with extra cash at the same time.
What is it? You're wondering: Consignment (or Cash NOW).
Once 'n Again, a remarkable resale shop in downtown Fairbury and Pontiac IL, wants to pay you for your recycled fashion. We have a number of options for both cash now and our great consignment program, offering you a terrific percentage all while doing the work of selling your still fashionable yet unworn by you clothing items.

Now is the perfect time to start. Here's why.
Spring is on its way, and that means a number of things for us Midwesterners: snow, rain, and maybe just a bit of sunshine. But for you trend setters, it really means this: getting your closet ready for all the new spring and summer fashion soon to hit the shelves.
We know how much clutter can accumulate in a closet over the long winter months. You've saved things from all of last year's shopping sprees. Maybe you've been using last year's spring items as layering pieces and they've worked. But you're ready for fresh; you're ready for new. With the tease of spring breaks and vacations just on the horizon, you deserve to go out and refresh your closet. But first, purge. That's right. Out with the old, so you can really do that whole in with the new part.
Consignment offers you the best value for all of your unwanted but still trendy items. You can find all the great details about it over on our website. But just know this: we help you clean your clutter by selling last year's apparel for you. And what's even better? We offer a lot more than a lot of other places: Consignment for the super shopper who is in constant need of closet de-cluttering, and cash on the spot for those who aren't quite sure or just want a little extra spending money. We are also a one-stop-shop, selling a range of clothes from children, teens, men and women! And if your house needs a bit of de-cluttering as well, our Fairbury location takes furniture and home décor on consignment.
We are now taking spring apparel, but feel free to bring anything in. We offer cash or consignment account credit for out of season items and are happy to walk you through the entire process.

What are you waiting for? Clean out your closet and come to Once 'n Again to get the best value for last year's fashion, giving you extra spending money for the trends soon to hit the shelves this year!

Subscribe to the blog