Spring Break, The Perfect Time To Clean Your Closets For Cash
2017-03-17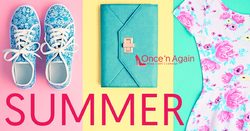 Some are fortunate to have a week off this spring…..lucky you ;) Spring Break is a great time to clean your closets for cash. If your kids are off you could even have a family fashion show. We have several other blog posts to help you with this task: closet organization, purging, how to clean your closet in 5 simple steps, and some of the many reasons to choose Once 'n Again. Then when you are done cleaning bring your awesome fashion to sell at Once 'n Again.
There are 3 ways to sell your stuff at Once 'n Again:
Choose Cash Now and we will give you cash for your stuff any season, any time--you leave with cash in your hand we put it in storage and sell it at the right time.
Choose consignment, you will typically get more $$ for your stuff....but you have to wait for it to sell and bring it to us during the correct consignment season.
Choose a combination of consignment and cash now. We price the current season items (according to our seasonal best time schedule ) in your consignment account and buy the out of season items for the cash now price by crediting your consignment account.
No appointment is necessary for either option.
No hangers are necessary for either option....we use our own and we prefer that you remove your hangers before you come in.
There is no maximum number of items and a minimum of 10 items to open a consignment account. After your consignment account is open there are no minimums or maximums.
Let us do the work for you!
For consignment: We are accepting spring/summer. For Cash Now: We buy any season any time!
Shop, Sell for Cash, or Consign...you have choices at Once 'n Again!


Subscribe to the blog