Fashion Olympics, Purse of the Year
2014-01-23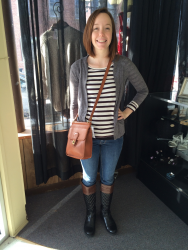 Purse of the Year
By: Stephanie Edens.
It is the time of year when America throws lavish parties to recognize the best of the best: Golden Globes, Grammys, Super Bowl, etc. And as Americans we spend hours in front of our television screens seeing who is chosen as best actor or actress, what the best films and TV shows are, the best NFL team. And in just a few short weeks the entire world will be watching as the absolute best athletes compete for the bronze, silver, and gold.

Here at Once n' Again we have been inspired by these and have come up with our own nominees for some of the best. Starting with: Purse of the year. A purse is a key accessory for nearly every woman of any age. We have our phones, our wallet, our lip gloss, and the earrings we wore to our friend's house last week. We store keys and make-up, sunglasses and…other necessities. Our purses are important to us. And the best kind of purse deserves some recognition.

Our decision: The Cross Body purse is the Purse of the Year!

Day after day we have women stopping by, looking at our designer handbags and lamenting if that adorable Coach has a handle that is just too short. Women want to sling their purse over their shoulder and not have to worry the weight will make it slip off throughout the day. Women want a purse that leaves their hands available and their minds free from fear that their purse could be easily snatched away. The cross body does just that, and we've been finding if the strap is long enough then the purse simply doesn't stay on our shelves.

And our employees agree. Many of us carry a cross body. This purse is simply the best style right now and we couldn't agree more!

We love the cross body for two huge reasons:
Versatile- the cross body comes in many functional shapes and sizes. Small ones to hold just a few necessities for a night on the town, or large messenger style bags that can hold important papers for that job interview or just all of the random items a woman needs throughout the day.
Active- the cross body is a purse for the active woman. Sling this bag across your shoulder and you are hands-free for absolutely any activity.

Women, if you're on the hunt for your perfect cross-body take a look at a local resale store. Remember to check for adjustable straps so you can make sure your cross body hits you at just the right place. We love neutral colored cross body purses so that this hot item will look great with even your most trendy outfits.
Do you agree with our gold medal winner?
What is your favorite kind of purse?

Subscribe to the blog