Faithful Shopper Appreciation Day!
2017-06-21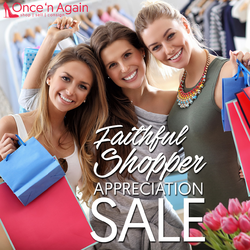 Can you believe we are already halfway through the year? Time is flying by and before we know it, we'll be putting another year in the books. And what a year it is so far. And it's all of you, our customers and consignors, who are making this another awesome year for Once 'n Again. And that is why we're having our Summer Faithful Shopper Appreciation Day next Tuesday June, 27th!
For those who have been shopping with Once 'n Again for a while, you know that this is THE DAY to stop in. But for those who don't know or don't remember how great Faithful Shopper Appreciation Day is, here's a quick 101:
Save 20% on everything (except furniture, you save 10%)! That is on top of any other clearance prices the items are-great savings!
Enter in to win one of 20 great prizes! When you stop in to shop, put your name in the raffle (you can enter one time per store).
Prizes in the past have ranged from store Gift Cards to New Coach Handbags (in the Fall)! You know that you don't want to miss out on this!
Open late until 8pm just for You!
It is because of our Faithful Shoppers that Once 'n Again has been going strong since 2001 in Fairbury and 2008 in Pontiac! From the day our store doors opened up until now, you've given us just what we had hoped for: the chance to give you great style at an unbeatable price. You have helped us to keep growing and providing a remarkable resale experience, and for that we are having a day to say THANK YOU. Stop in next Tuesday June, 27 (10am-8pm) for friends, fun, prizes, and discounts. You definitely deserve it!

Subscribe to the blog